VE DAY +75
When we, Chalfont St. Giles, celebrated the 60th Anniversary of VE Day, we asked local people what their memories of VE Day were. Here are some of the responses. Although they lived in the Chalfonts, some authors sadly have died, others have moved away but their tales are a reminder of what it meant to so many. Further down the page you'll find some snippets of the CSG 60th celebrations.

"I was in the Royal Air Force stationed at Fairford but was able to go into Oxford and on to London in anticipation of celebrations.
In London I made my way to Buckingham Palace where I did my share of waving to the King and Queen.
A sequel came 50 years later, when I stood on the same spot and waved to the same lady, the Queen Mother, then being almost 100."
~~~~~~~~~~~~~
"I cannot remember the details but I was nursing in Naples. We had no serious wounded that night but our patients consisted of our own soldiers who were celebrating too well – we did not grudge them that!"
~~~~~~~~~~~
"The night VE was announced I was in Whitehall where Winston Churchill was on the balcony of the Home Office, most energetically conducting us in the vast crowd below singing: "There'll always be an England", "Rule Britannia" and such like.
Later the crowd shuffled (too many say we walked!) to Buckingham Palace where we shouted: "We want the King" until George VI and Queen Elizabeth came on their balcony and waved to us."
~~~~~~~~~~~~
I don't recall what happened during the actual day the war ended: I presume we heard the news on ' the wireless '
Scottish churches don't have bells so no wild bell ringing.

I was 16, an only child, but lucky to live next door to a big family, all older than me, and I was like a wee sister.
The older teenagers and twenties were going out to celebrate and invited me to join them. My Mother reluctantly agreed making them promise to 'Look after me"

We went to collect some Austrian refugee friends first of all, and their Mother had made a big dish of potato salad, the first time I tasted this new delicacy in the land of tatties and chips

We headed for George Square, which was packed, and we danced and hugged and I can still remember a sailor kissing me and doing the Hokey Cokey round the Cenotaph. People climbed all over the statues and there was a fair amount of drunkenness; it was Glasgow, after all, but it was all good humoured and so much fun

~~~~~~~~~~~~
"I was in London on VE day training to be a nurse at St George's Hospital. Hyde Park Corner. I was on night duty so unfortunately had to sleep during all the celebrations. However, even at 8 o'clock the crowds were tremendous."
~~~~~~~~~~~~~~
"On May 8th 1945, it was announced that it was VE Day and there would be no school that day. At the time I was at boarding school, tucked away near Eccleston, in rural Staffordshire, where our school had been evacuated. It had originated at Beckenham in Kent – very much the edge of London.
The memorable moment from 1945 was the day when my parents took me and my younger sister up to London and we heard Mr Churchill speaking from a balcony in Whitehall. I think it must have been VJ Day, August 15th, when the Japanese surrendered after the atom bombs were dropped on Hiroshima and Nagasaki. The crowds flocked into the street, and everybody was highly excited. In Hammersmith Broadway they rocked all the cars as we drove slowly through the ranks. My sister was quite frightened at first, until my parents explained that they meant us no harm. They were just overjoyed".
~~~~~~~~~~~~~~
"As a child of 6 years old, I can remember everyone happy and a lot of flag waving. Later on, a street party – jelly and ice cream and a long, long table down the street. At that time I was living in Hanwell."
~~~~~~~~~~~~~~
"I was living in Maidstone, Kent at the end of the War. We knew that VE Day was imminent, and I did so hope it would be on my birthday (5th)! However, we were told on 7th that we had 2 days holiday from school.
My main memories are of going to Church in the local Parish church of All Saints for a service of thanksgiving , the bells ringing and crowds of people doing "Knees up Mother Brown" in the middle of the High Street into the night. Also, of all the lights which were switched on after 6 years of darkness!

~~~~~~~~~~~~
"In London from Merseyside as my brother, a naval commander, had just become engaged to a Canadian.
Lights on at last after 6 years of blackouts. Bonfires in the middle of the street. Dined at Hatchets as prices were controlled at £5 for dinner and £5 cover charge in posher places. Still worried about Japan. All church bells ringing!
We called it Victory and Engagement day!"
~~~~~~~~~~~~
"Sitting on a lion in Trafalgar Square, singing with the vast crowd of people who were there celebrating Victory in Europe."
~~~~~~~~~~~~
"I was 8 years old at the end of the war and had just returned home from Birmingham. I was evacuated there from Surrey in 1944 when the V bombs raids started. On VE Day itself I was in a big London store and my Aunt bought me some red, white and blue hair ribbon.
~~~~~~~~~~~~~~~
On May 8th 1945 I was ten years of age. I was a boarder at a school for the children of the officers and men of the Merchant Navy who had lost their lives. During term time we saw no newspapers, heard no radio and had very little idea of the war's progress. Therefore it came as a complete surprise when the Matron, Miss Clarke, came into our dormitory with a smile on her face and a bunch of red, white and blue ribbons in her hand. This was a great day she informed us, "The war in Europe has ended". I am not sure how we processed this information.
At breakfast we were told that the normal school routine was abandoned and that later in the morning, all girls wearing their patriotic hair ribbons, would proceed down to a clearing by the lake.
The sun shone and the lake sparkled. A large bonfire, complete with a recognisable effigy of Adolph Hitler, had been built and we sat around on logs and tree trunks. We sang as the band of the Aborfield Army Apprentices played popular wartime songs only stopping to eat a packed lunch. We did not understand much about the war but we were enjoying this unexpected fun.
Afterwards they lit the bonfire and we danced around, cheering and jeering as Adolph, with his Swastikas and signature moustache, burned in the flames.
Later, smelling of smoke, dirty and hungry we went back to school for tea. On each serving table was a large iced cake, either red, white or blue. I imagine they were newly made as the icing had not set.We went to bed tired but very happy. The irony of the day was lost on me, but perhaps the older boys and girls understood. Most of those children who danced as Hitler burned had lost their Fathers as a result of his actions.
~~~~~~~~~~~~
"At the end of March 49th Division (West Riding) part of the 1st Canadian Army crossed the River Waal and captured Arnhem and steadily advanced towards Amsterdam. At some time, about April 20th, the Swedish or Swiss Red Cross managed to arrange a truce and convoys of food for the starving Dutch were taken by Canadian Service Corps driven though lines to help. Also the RAF dropped supplies from England. May 4th we were told the Germany Army in Holland had surrendered and the next day we went forward to disarm them. There was no time to celebrate and next day we were meeting our ex-opponents who we had faced for several months before (and showed great respect for each other). It was very strange.
The scene of jubilation and welcome of the Dutch remains firmly in my memory."

On Saturday, 7th May Chalfont St Giles celebrated the 60th Anniversary of VE Day.

Revitalisation Committee Chairman Kathleen Martin recorded the event with photographs. She is pictured below with Frank Williams who played the Vicar in Dad's Army.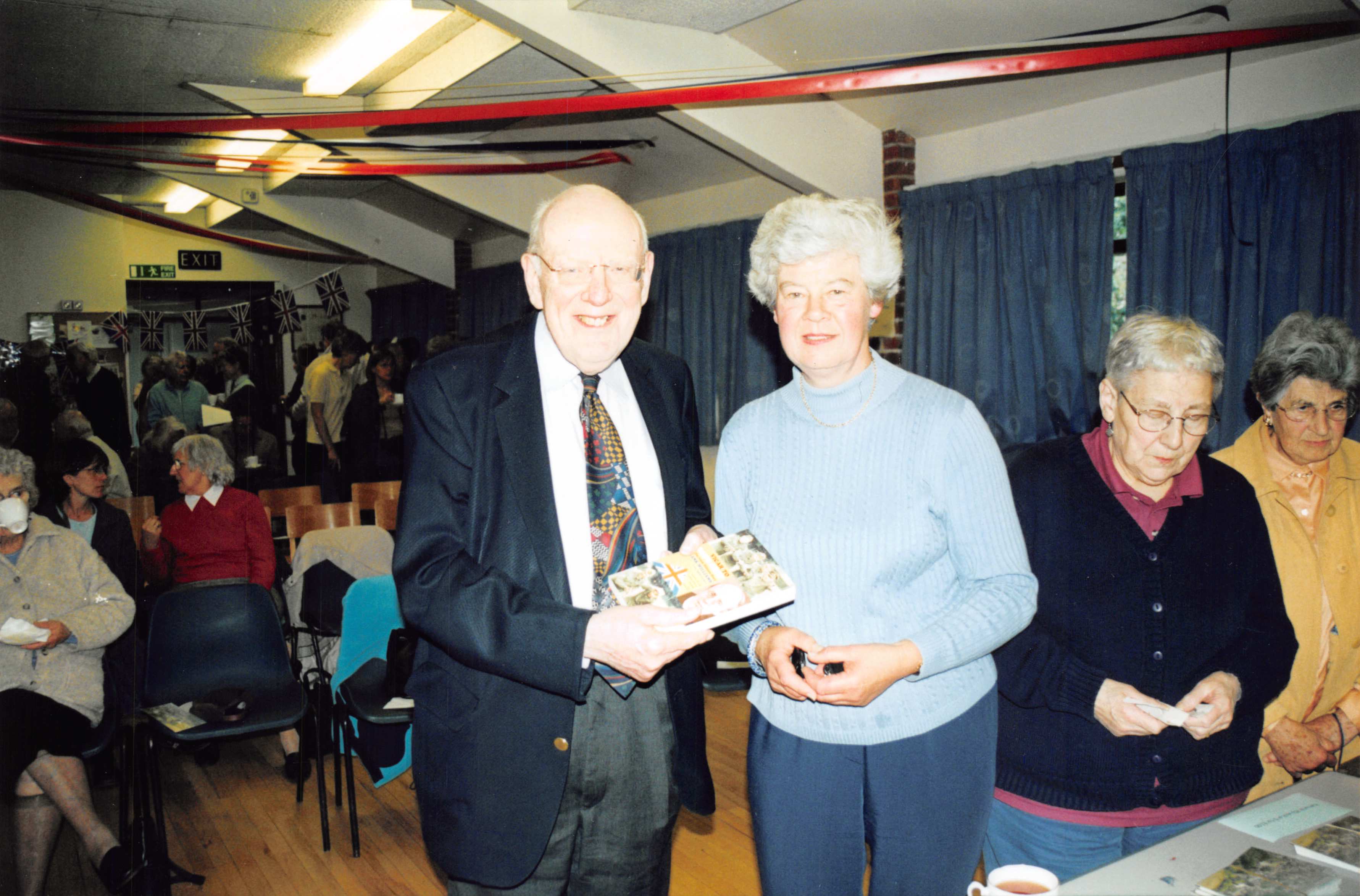 Pictures below Clockwise from top left...

Stratton's mouthwatering window display.
On the Green the Chalfont Wind Band.
Themed shop fronts along the Green.
Warner's 'Dad's Army' window display.

There was also a barbecue at the Reading Room and a viewing of Dad's Army at the Guide Hall. Other films, newsreels and news items from the wartime provided a backdrop for tea.

The church bells rang in the day and did so again on 15th August, the 60th Anniversary of VJ Day, to remember those who were in the Far East.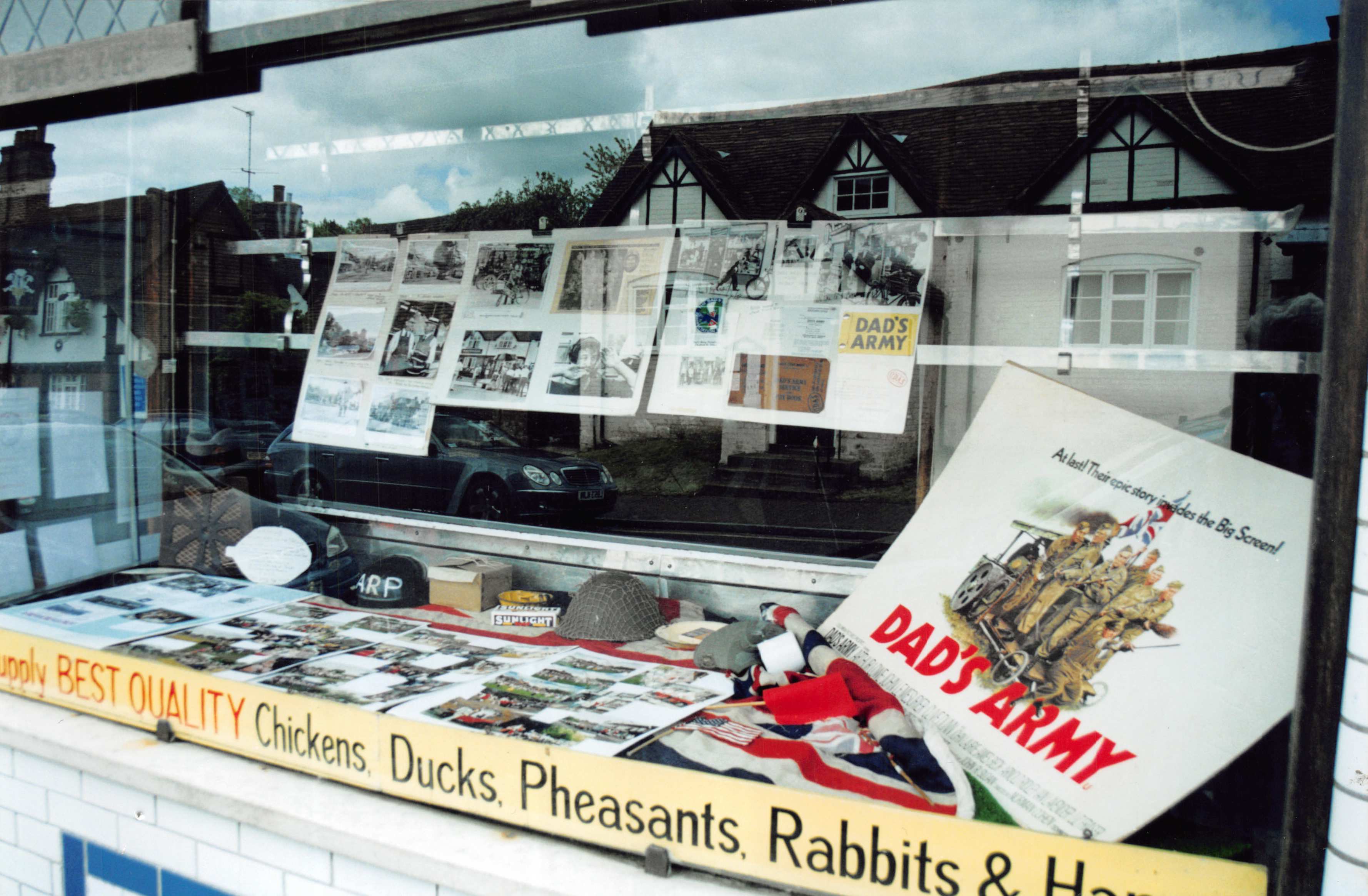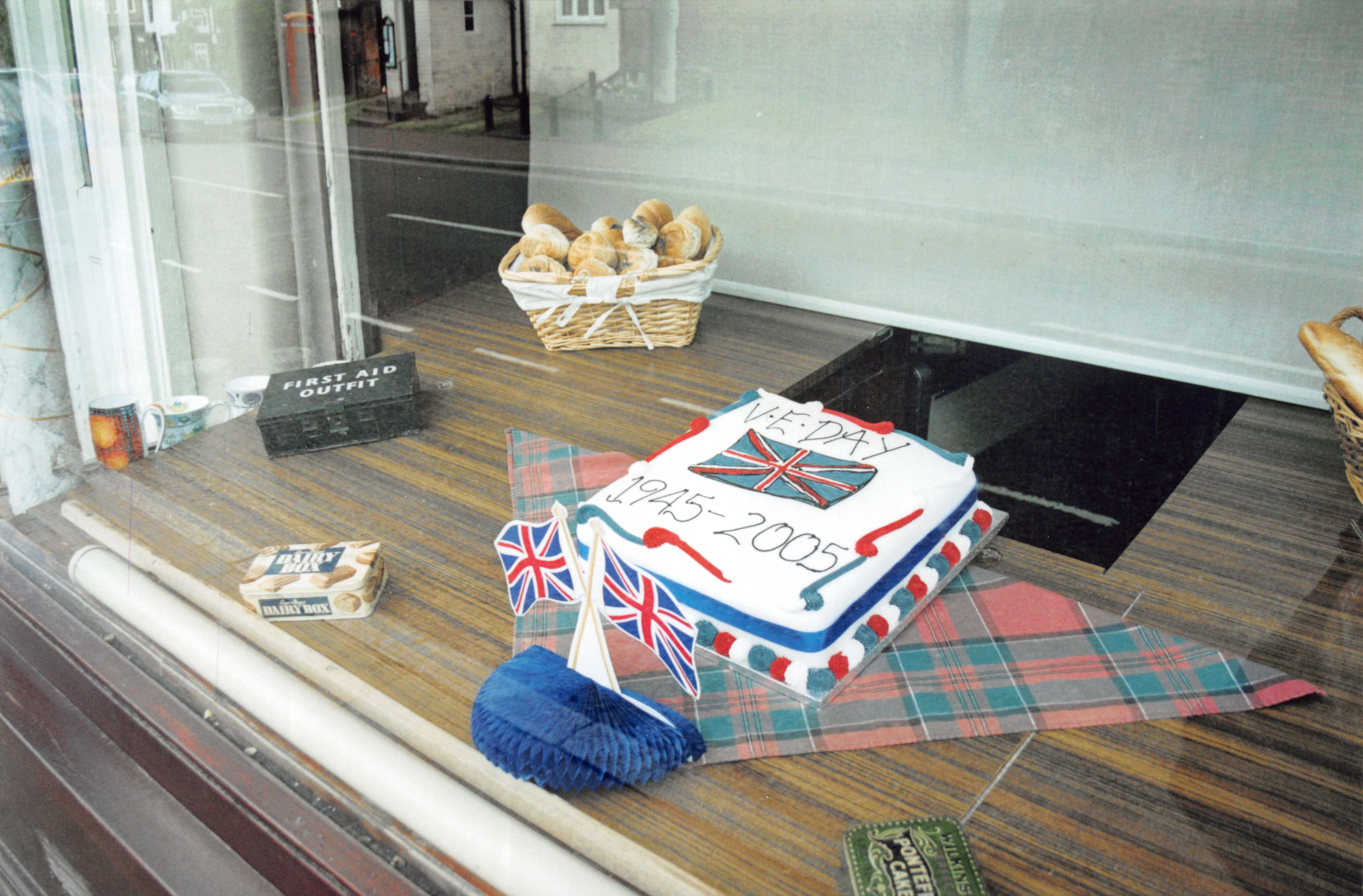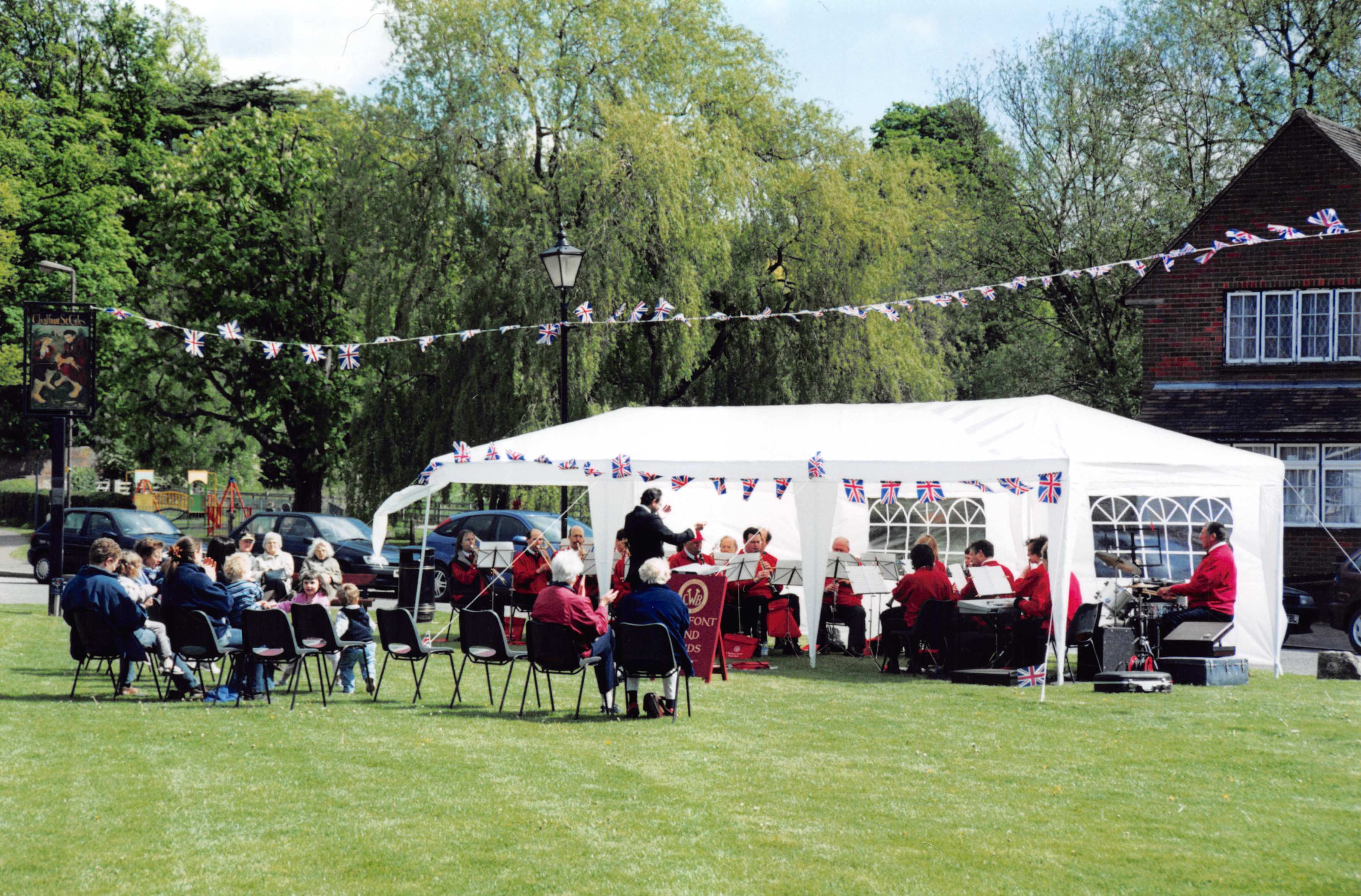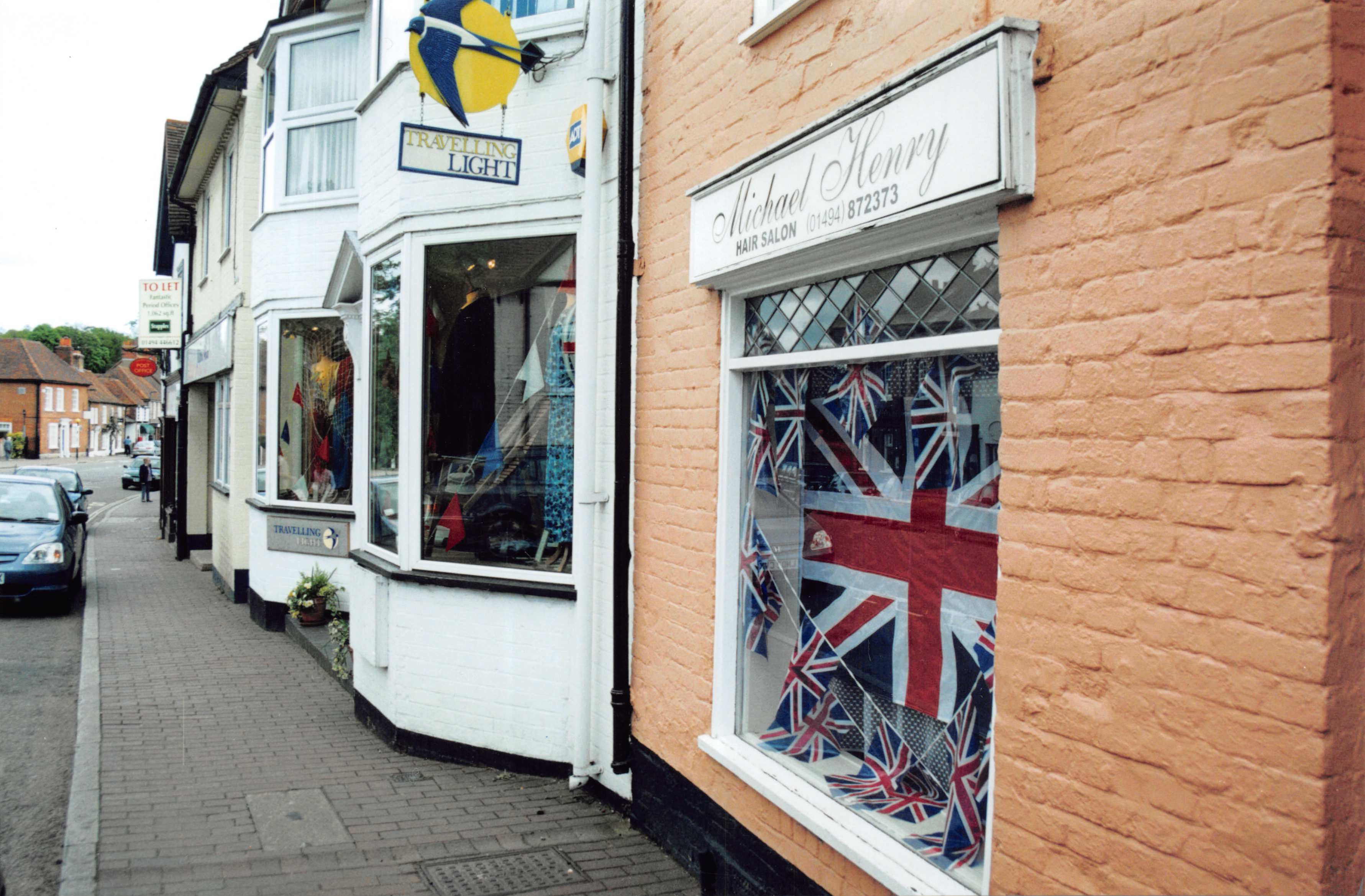 ---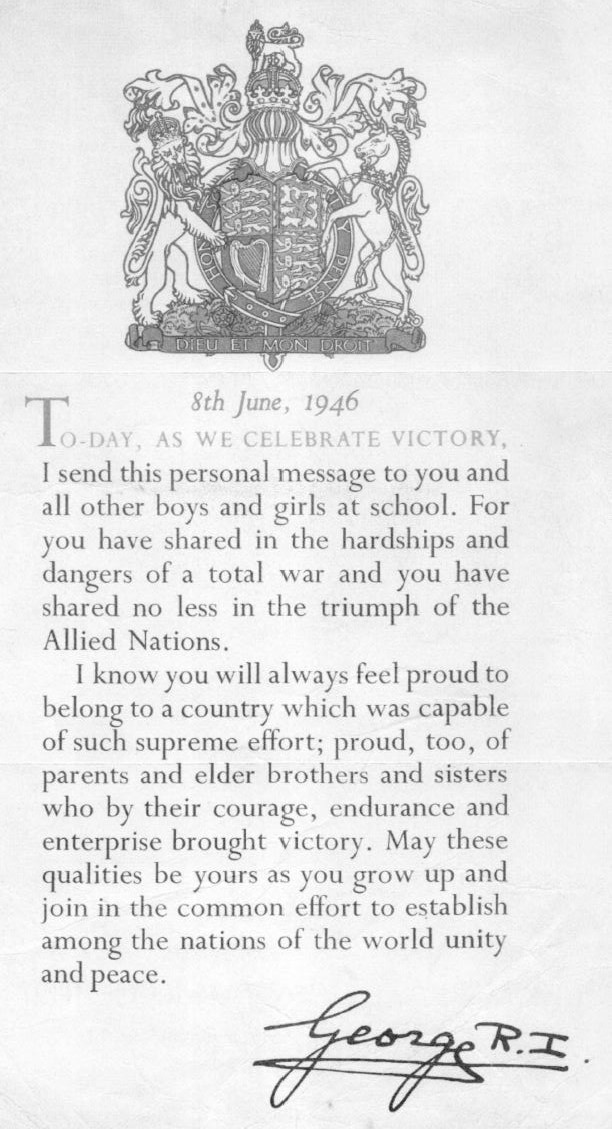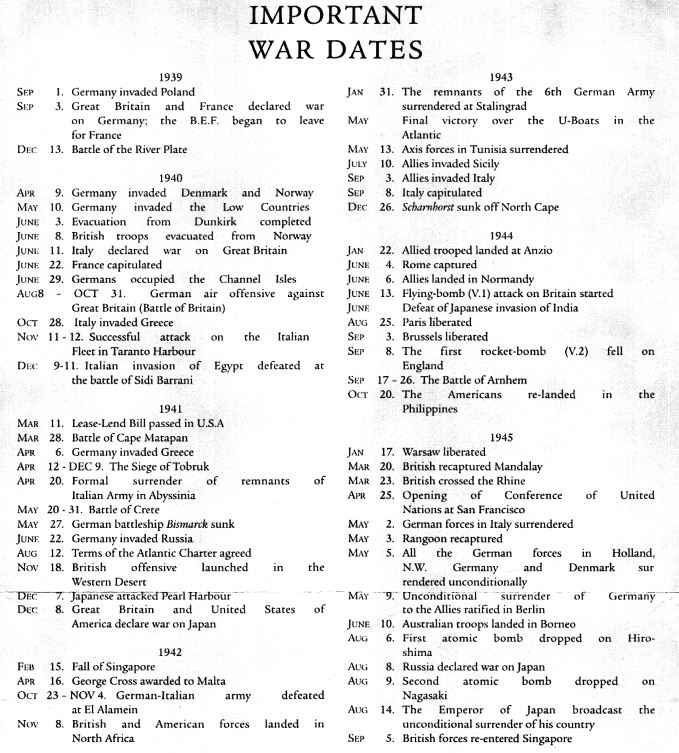 The Village Green onthe morning of 7th May 2020
Click the pictures for higher resolution version
Photos Kathleen Martin