Chalfont St Giles and the Best Kept Village Competition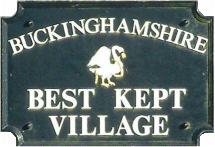 The Pushman Cup for the Best Kept Village in Buckinghamshire
(Section: Rural, population over 3,000)
History:
2002 Winner
2003 Runner-up in the "previous year's winners" cup
2004 Runner-up to Stoke Mandeville
2005 Runner-up to Chalfont St Peter
2006 Winner
2007 Not placed
2008 Not placed
2009 Joint runner-up to Haddenham with Chalfont St Peter
2010 Winner
2011 Not placed
2012 Certificate of Merit for achieving a Highly Commended grade
2013 Not placed
2014 Not entered due to village centre flooding
2015 Joint runner-up to Haddenham with Gerrards Cross
2016 Winner - also the winner of the Leofwine Shield which is given to the town or village within Chiltern district which achieved the highest number of points in the Best Kept Village Competition.
Judges comments in 2006 included:

It was pleasing to find this very attractive church open. The noticeboard was also very attractive. The churchyard has been left as a conservation area with daisies and poppies - a reminder of a traditional country churchyard. The cemetery was also excellent.

The childrens' playing area is well equipped and well kept. The playing fields are well used and excellent.

The Memorial Hall is very good but had some graffiti on open areas; the attractive planted areas are now matured.

Areas surrounding inns, hotels, pubs, and shops were generally very good and maintained in a very tidy state.

The pond is very attractive and well kept. The War Memorial in the churchyard is in very good order but that in the High Street had dead flowers which had not been removed.